days
hours
minutes
seconds
days
hours
minutes
seconds
The CSE, CFN Media & Zuber Lawler Present
Investing in Psychedelics Series:

Building Value Through IP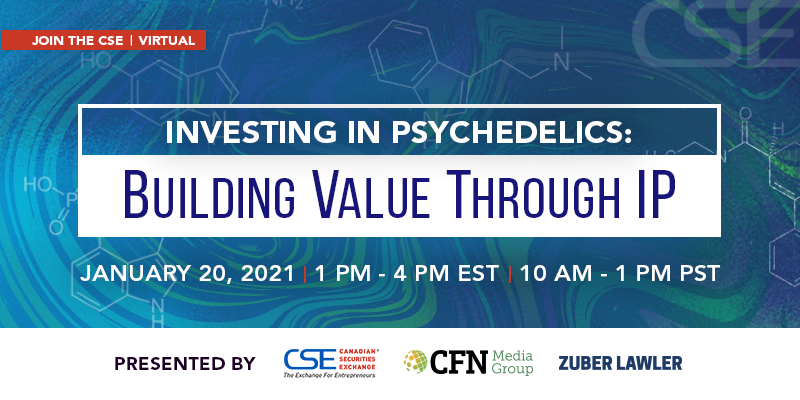 Date: Wednesday, January 20, 2021
Starting at 1 p.m. EST / 10:00 a.m. PST


The 'Investing in Psychedelics' virtual conference on January 20th will feature live panels with moderators. Panel participants will consist of company executives, IP specialists and bankers across three sessions. Attendees will be able to submit questions to the panelists via the moderators. Company executives will be interviewed ahead of the live event and the recorded videos will be shared with conference registrants.
Panel Topics, Moderators and Panelists
Each live panel will last 40 minutes with 15 minutes of Q&A and a five minute break between panels with one moderator and up to five participants.
Drug Developers & Manufacturers:
Unlocking Value Through IP
Intellectual Property:
Pitfalls and Potential
Bankers & Capital Markets:

What is the Risk / Reward?
Private, pre-public and public companies operating in the psychedelic drug discovery and development supply chain that need defensible IP.

Pitfalls and potential in the real world.

Due diligence in the current psychedelic investment landscape with respect to supply chain, business models and IP.
Moderated by Tom Zuber
Managing Partner of Zuber Lawler
Moderated by Paul Rosen
Executive Director of Global Go
Moderated by Josh Lawler
Partner of Zuber Lawler
Tom Zuber is a founder and the Managing Partner of Zuber Lawler. Tom is the relationship partner for some 10 Fortune 500 Company clients of the firm, as well as funds and government entities. He has also represented leading "plant" medicines companies for 14 years. Zuber Lawler as a firm manages the highest-stakes matters of a large percentage of the biggest brands in global cannabis and psychedelics. Tom is also a founder of the international cannabis consulting company Global Go. He earned a J.D. degree Columbia Law School, a master's in public policy degree from Harvard University, and a biomedical engineering degree from Rutgers University, where he graduated with highest honors.

Paul Rosen is a noted career entrepreneur, management consultant and public speaker.
Paul was a co-founder of PharmaCan Capital Corp. doing business as The Cronos Group (NASDAQ: CRON; TSX: CRON) and served as its first President and CEO. Paul has held board positions with a number of publicly traded cannabis companies, and serves as the Executive Chairman of Global Go, a leading advisory focused on the global regulated cannabis and psychedelic industries. Paul currently serves as interim CEO of 1933 Industries, a Las Vegas based vertically integrated cannabis operator. Paul is also a Director at Delic Holdings Inc. (DELC:CNSX), a leader in the nascent and growing space of psychedelic wellness.
Josh Lawler handles M&A, finance and corporate matters for private equity groups, and public and private companies, both domestically and internationally. He has also represented leading cannabis companies for over 14 years, and has more recently been at the cutting edge of legal work in the psychedelics space as well. Josh has extensive experience with complex deals relating to alternative medicines. He counsels cannabis and psychedelics companies on acquisitions and mergers, and post-acquisition and post-merger integration. His work with both leading cannabis, psychedelics, and leading blockchain companies positions him perhaps uniquely well to advise as to the intersection of plant, fungus, and blockchain technologies. Josh holds a B.S. from Duke University, and is a cum laude graduate of Northwestern University School of Law, and earned his B.S. and B.A. from Duke University.
Dr. Jayashree Mitra, Partner, Zuber Lawler
Dr. Jayashree Mitra focuses on patent litigation, IPR and PGR proceedings, and trade secret matters. Dr. Mitra has litigated drug patents for one of the biggest pharmaceutical companies in the world. She has experience successfully litigating a diverse range of products in the pharmaceutical and cannabis industries, and is increasingly focused on the future landscape of litigation in the psychedelics space. She also has extensive experience advising clients in relation to psychedelics and cannabis related technology, including as to developing their intellectual property portfolios, and navigating the complex regulatory pathways before the FDA. She works in federal courts and before the International Trade Commission. She earned a Ph.D. in Pharmacology from Yale University and her J.D. from Northwestern University School of Law, where she was a member of the Law Review.
James Kuo, MD, MBA, CEO, Tryp Therapeutics Inc. (CSE: TRYP)
Dr. James Kuo brings global life science leadership, business development and corporate finance experience to the company. He is presently Chairman of the Board at ImmunoPrecise Antibodies (TSXV: IPA) and has served as Managing Director of Athena Bioventures. He has also been Chief Executive Officer of BioMicro Systems and Discovery Laboratories (NASDAQ: DSCO).
Ronan Levy, Co-Founder, Field Trip Health Ltd. (CSE: FTRP) (OTCBB: FTRPP)
An entrepreneur and a visionary, Ronan is Co-founder and Executive Chairman of Field Trip Psychedelics Inc. Concurrent with his work at Field Trip, he is a partner at Grassfed Ventures, a venture capital and advisory firm focused on the cannabis and biotech industries and a Member of the Board of Directors for Trait Biosciences Inc., a leading biotech company in the hemp and cannabis industries.
Gregg Peterson, CEO, Bexson Biomedical
Gregg Peterson is CEO of Bexson Biomedical, a R&D stage pharmaceutical company focused on non-opioid therapies for pain management and mental health. He has over 20 years experience developing pharmaceutical, medical device, biologic and combination products, leading to the commercial launch of over a dozen products around the world.
Eric Weisblum, Founder and CEO, Silo Pharma Inc. (OTCQB: SILO)
Eric Weisblum is the founder and Chief Executive Officer of Silo Pharma Inc. Prior to Silo Pharma Mr. Weisblum was a private investor and advisor to several of his portfolio companies. Mr. Weisblum has experience in both inlicensing therapeutic assets and assisting in their development. As a result, Mr. Weisblum brings with him nearly 20 years of experience in structuring and trading financial instruments.
Dr. Joseph Tucker, CEO, MagicMed Industries Inc.
Dr. Joseph Tucker is a seasoned executive who has built several publicly traded biotechnology companies. Dr. Tucker was a founder and Chief Executive Officer of Stem Cell Therapeutics, which he took public on the TSX (TSX: SSS). Trillium Therapeutics (NASDAQ: TRIL, TSX: TRIL) acquired Stem Cell Therapeutics in 2013. Dr. Tucker received his Ph.D. in Biochemistry and Molecular Biology from the University of Calgary.
Penny White, LLB, BA, CEO, NeonMind Biosciences Inc. (CSE: NEON)
Penny White is CEO of NeonMind Biosciences Inc. and Co-Founder, President and CEO of Better Plant Sciences Inc. A true trailblazer, Penny is a serial entrepreneur with over two decades of experience building successful companies. Her experience as an entrepreneur includes online music, international film distribution, mobile payments, blockchain technology, crowdsourcing, renewable energy, pharmaceuticals, eCommerce, law, and cannabis.
Graeme McFarlane, Chief Commercial Officer, Albert Labs
30+ years in the pharmaceutical industry holding senior management positions in Astra Zeneca, GlaxoSmithKline and Bristol Myers before starting two B2B companies specializing in Pharma Market Access, having brought in excess of 60 products to market in key areas of mental, cancer, and other national agenda diseases. Now positioned as Chief Commercial Officer at Albert Labs, a clinical research and drug development enterprise, focused on improving patient access to psychedelic assisted therapies through accelerated regulatory approval pathways across the UK & Europe.
Sher Ali Butt, Founder & CEO, CB Therapeutics Inc.
Sher founded CB Therapeutics with his college friend Jacob Vogan with a clear vision for developing scientific thought leadership in Fermentation Science and Cellular Agriculture. His business experience, leadership skills along with his scientific background are the ideal combination to build CB Therapeutics into a successful enterprise.
Timothy Ko, Founder, Entheon Biomedical Corp. (CSE: ENBI)
Timothy Ko has a broad background of leading private ventures in the Service Sector, Investor Relations, Retail and Technology. Timothy's passion for the psychedelic space is shaped by firsthand knowledge of the shortcomings of the current mental health system, and through his exposure to psychedelics which he credits with saving his life.
Psychedelics and cannabis are the sole focus of David's intellectual property, regulatory and commercial practice. Driven by a strong personal commitment to responsible and effective access to psychedelics for improving, maintaining and promoting health, David supports pro bono initiatives by non-profit organizations to facilitate and expand access to LSD, psilocybin, MDMA and other psychedelics for Canadians, both within and separate from Canada's prescription drug system under the Food and Drugs Act.
Richard Carleton, CEO of the Canadian Securities Exchange (CSE)
Richard Carleton was appointed CEO of the Canadian Securities Exchange in July 2011. During his tenure, Richard and the CSE team led a re-capitalization of the exchange in 2012-2013 and established relationships with key influencers in the Canadian securities industry and beyond. These efforts positioned the exchange to take a leading role in the provision of public capital to entrepreneurial companies; from 2014 on, the CSE set a series of records for new listings, capital raised by issuers, and trading turnover. An early advocate for the cannabis industry, the CSE is now the global exchange leader in the listing of issuers in the space. Recognized by the Financial Post Magazine as one of Canada's "25 Cannabis Industry Power Players", and a recipient of the American Trade Association's "Captain of Industry" Award in November 2018, Richard is a frequent speaker on early-stage company finance issues around the world.
A member of the Law Society of Upper Canada since 1987, Richard is a graduate of the University of Ottawa (B.A. '81) and the University of Toronto (LL.B. '85). He has also completed the executive development program at the Wharton School, University of Pennsylvania.
Don't miss it! Register for FREE today!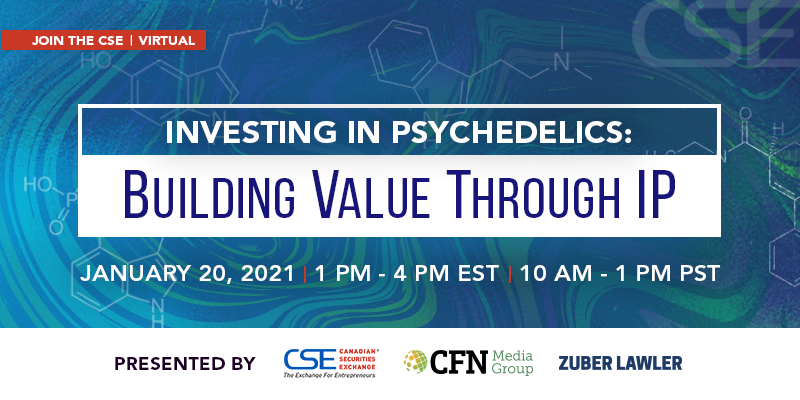 Copyright © 2020. All rights reserved.